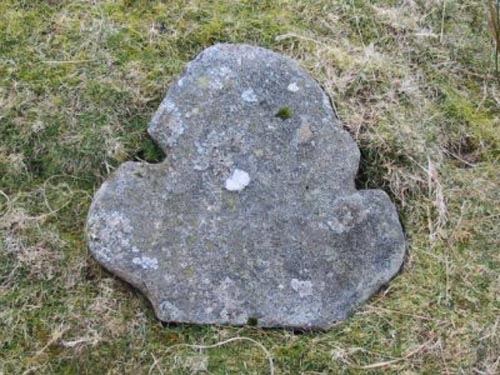 Location:
Set into the ground, approximately 130 yards to the North West of Little Links Tor.
O/S Grid Ref: SX/54595/87066 Longitude/Latitude (Degrees+/-): -4.05881/50.66505
Map location: Click here to view map.
Purpose: Not known.
Size: The height of the cross head is 18½ inches (0.47 metres), the width across the arms is 19 inches (0.49 metres) and with a depth of 5 inches (0.13 metres). The width of the shaft, below the arms is 11 inches (0.28 metres) and the distance from the top of the head down to the top of the arms measures 8½ inches (0.22 metres).
Information: Not a lot seems to be known about this cross head except to say that it was discovered in 2008 by a group of walkers, who later reported their find. Subsequently, an article appeared in the Dartmoor Magazine to publicise their discovery.
One can only speculate as to why this cross head should be left in this place on the moor. My only thoughts are that, perhaps, someone started to fashion a cross out of a block of granite when something went seriously wrong and it was abandoned. Subsequently, the shaft could have been removed and used for another purpose such as a gatepost, as has happened to several of the crosses on the moor.
The only other cross within reasonable distance is Widgery Cross, on Brat Tor, but there is no similarity between the two as the Widgery Cross is made from large blocks of granite. The nearest waymarking cross is at Sourton Down to mark the directions to the towns of Hatherleigh, Okehampton, Tavistock & Launceston. Could the intention have been to take this cross down from where it was made and for it to be used to mark the route from Okehampton to Tavistock, perhaps on the King Way?