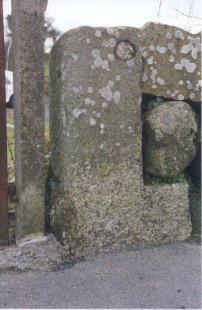 Location: At the entrance to Lower Aish Farm, Poundsgate.

O/S Grid Ref: SX/706/721 Longitude/Latitude (Degrees+/-): -3.82755/50.53410 (approx.)

Map location: Click here to view map.

Purpose: Not known.

Size: 3 feet (0.91 metres) tall. 1 foot 9Ĺ inches (0.55 metres) across the shaft and remaining arm. The shaft is 13 inches (0.33 metres) wide and 10 inches (0.25 metres) deep.

Information: This cross is currently set upside down beside the gate at the entrance to the farm. One arm has been broken off completely and the other is resting on the ground. This means that the head, if it still exists, is wholly buried in the ground. The shaft looks as though it has been broken off and is now quite a bit shorter than it was originally. No part of this cross has been chamfered and it is plain, but well worked, in appearance.

In order to give a better idea of its size, the measurement from the centre of the shaft to the end of the existing arm is 1 foot 3 inches (0.38 metres). This means that the full width across the arms would originally have been 2 feet 6 inches (0.76 metres). It is a pity that the cross has suffered so much damage as it would once have been quite an imposing monument. Iíve not been able to discover the whereabouts of its original position or why it was removed to its current site. It just seems a pity we cannot see it to better advantage and in a more appropriate location.