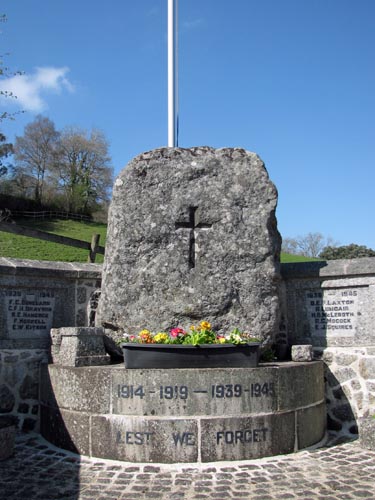 Location: Up the road, to the North of the village green and set back into a recess in a stone wall.

O/S Grid Ref: SX/78524/81365 Longitude/Latitude (Degrees+/-): -3.71852/50.61930

Map location: Click here to view map.

Purpose: War memorial in respect of World Wars I and II.

Size: Not known.

Information: This cross has been incised onto a block of granite, which forms the centrepiece of this village war memorial. The pedestal on which this boulder stands is semi-circular and sits at the top of a small flight of five steps, built up from the road to make it level. The pedestal is engraved:
1914–1918 1939–1945
LEST WE FORGET
The names of local servicemen who lost their lives, in both World Wars, are listed on four stones built into the rear retaining wall of the monument.