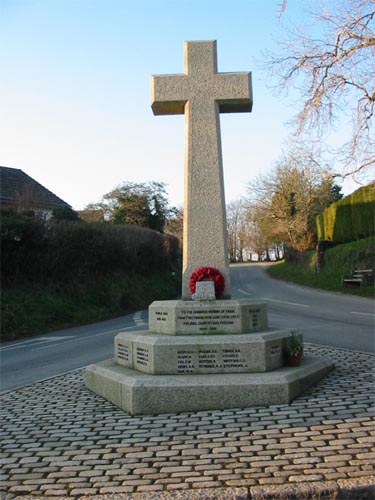 Location:
In the middle of the road junction in the centre of Lydford.
O/S Grid Ref: SX/51309/85114 Longitude/Latitude (Degrees+/-): -4.10448/50.64668
Map location: Click here to view map.
Purpose: War Memorial Cross.
Size: The cross is 11 feet (3.35 metres) tall and the shaft is 22 inches (0.56 metres) square, measured at its base. The width across the arms is 4 feet 2 inches (1.27 metres) and the depth of the arms is 18 inches (0.46 metres). The combined height of the three plinths is 3 feet 6 inches (1.07 metres), making the total height of the cross and plinths an imposing 14 feet 6 inches (4.42 metres).
Information: This is a fairly new cross that has recently been erected on site as a memorial to all those villagers who gave their lives in the two World Wars, the Falklands and Gulf Conflicts. Its prominence in the village will ensure that it never becomes overlooked.
This imposing cross has been constructed from a single block of granite. The shaft, which is square at its base, tapers upwards and is chamfered on all edges, as are the arms. It is set on a plinth of three hexagonal steps, each one smaller than the one below. The top edge of each step has also been chamfered and the bottom step is set well into the sloping ground at the back to ensure that the whole structure is level. The cross is surrounded and protected by a circular area of stone pavers.
The main face of the top step has been engraved with the words:
'TO THE HONOURED MEMORY OF THOSE, FROM THIS PARISH, WHO GAVE THEIR LIVES FOR KING, COUNTRY AND FREEDOM. 1914–1918'
The names of thirteen parishioners are shown on the step immediately below. On another face is engraved the names of the 8 people who lost their lives in World War II (1939-1945). The names of those who lost their lives in the Falklands War (1982) and in Iraq (2003) are also shown on a separate face. My visit was made all the more poignant by the wreath of poppies placed at the base of the cross during the Remembrance Day service.