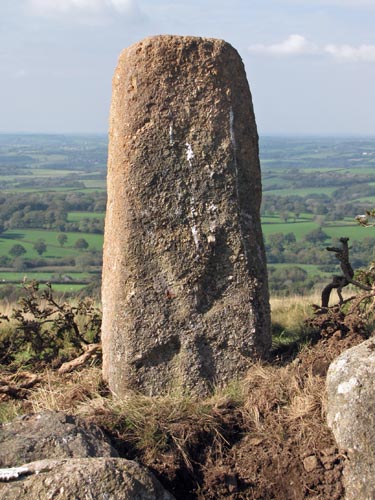 Location:
375 yards due west of the Cairn on Great Nodden.
O/S Grid Ref: SX/53516/87411 Longitude/Latitude (Degrees+/-): -4.07420/50.66788
Map location: Click here to view map.
Purpose: It is believed to have been a Guide Stone to mark the path of the King Way.
Size: The height of the stone is 3 feet 11Ĺ inches (0.90 Metres) above ground level, the width 14 inches (0.35 metres) and the depth 12Ĺ inches (0.32 metres). The cross, cut in relief, measures 17 inches (0.43 metres) in height and 12Ĺ inches (0.32 metres) across the width of its arms.
Information: This early 12th Century cross is unusual on Dartmoor in that it is an elongated Greek style cross cut in relief on a plain granite stone. It is thought to have been erected as a guide stone along the King Way, the Okehampton to Tavistock section of the old coaching and mail route from London to Plymouth. It is believed that the King Way was named after Charles I (1600-1649), and is very likely to have been based on a much earlier and less defined route, for which the cross acted as a welcome guide stone.
The stone was found in a cornditch and recognised as a cross by Ronís Ramblers, a group of retired Devonport Dockyard workers, in early 2010. The find was reported to the Dartmoor National Park Authority who confirmed the find and arranged for it to be taken in for assessment and repair. The shaft, which is thought to have originally been about 2 metres tall, was found to have been broken and the socket stone could not be found. It was thought that another stone found nearby could have been the missing piece of shaft but, after further investigation, this was proved not to be the case.
The Park Authorityís stonemason found a suitable stone to form a new base and cut the hole to fit the shaft of the cross. After forming part of an exhibition at the High Moorland Visitor Centre in Princetown, during the summer of 2011, the cross was eventually resited back on the moor in September 2011. It was placed back in the cornditch along the King Way, in the same spot as it was originally found by Ronís Ramblers.
From a personal point of view, it seems a shame that Park Authority decided to bury the new socket stone completely in the bank and have also buried the shaft up to the base of the relief cross. I appreciate that it has to be fixed firmly in place to withstand the pressures from animals rubbing past it, but I fear that over time much of the relief cross will get hidden by the expanding undergrowth.