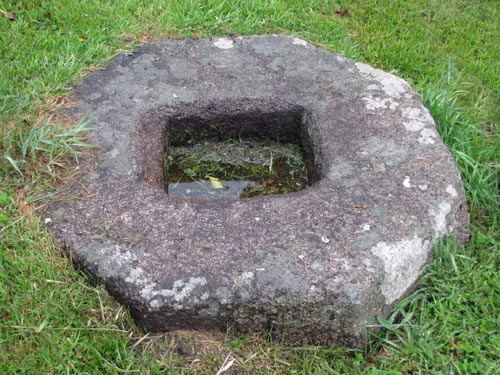 Location: Amongst the gravestones, about 10 yards to the east of the path leading up to the south door to the church.

Grid Ref: SX 54288 63104

Map location: Click here to view map.

Purpose: Socket stone for a churchyard cross.

Size: The socket stone measures 3 feet 1 inch (0.94 metres) in diameter and at least 7½ inches (0.19 metres) deep. The socket is 13½ inches (0.34 metres) long, by 12 inches (0.31 metres) wide and 5½ inches (0.14 metres) deep.

Information: This socket stone is set into the ground and is laying flat between two gravestones. It has been well-worked into an octagonal shape and is in very good condition all round. As the socket does not go all the way through the stone, it is prone to filling up with rainwater.

At the steps leading up to the east gate of the church, there is a long shaped stone lying on top of the roadside wall, acting as a coping stone. It is quite possible that this is the shaft of the cross that once stood in the above socket stone as the Churchyard Cross. The stone measures 4 feet 5 inches (1.35 metres) long by 9 inches (0.23 metres) wide and 8 inches (0.20 metres) deep. The top end of the stone is square and would have been the base of the cross. The main length of the stone is chamfered on all four edges and it has been broken off at the point that would have been immediately under the arms of the cross. There is no sign of the whereabouts of the head and arms of this cross. There is a hole in the top face of the stone, near the upper end, which is irregular in shape and is now filled with cement. There is also a shallow slot on the inside edge towards the bottom of the stone.
The village is lucky enough to be blessed with a second cross, which is situated in the roadside wall a few yards above the church. This is the Shaugh Prior Village Cross, which may also have been a preaching cross prior to the church being built.