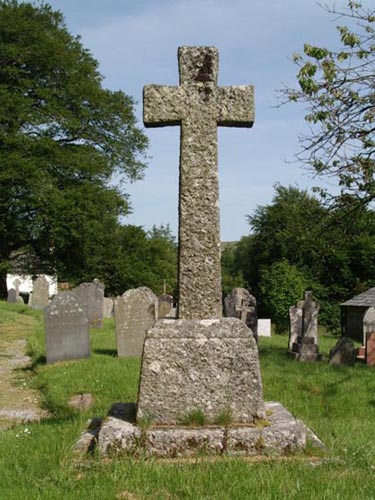 Location: Inside the Sheepstor Churchyard, to the right-hand side of the main path that runs through the churchyard.
O/S Grid Ref: SX/560/676 Longitude/Latitude (Degrees+/-): -4.03139/50.49105 (approx.)
Map location: Click here to view map.
Purpose: War Memorial
Size: Not yet measured.
Information: This monument consists of a square granite shaft, topped off with the cross of which the head and arms taper slightly inward towards the shaft. The cross sits in a large base which has a double rounded chamfer running around its upper edge. The base sits on a pedestal of two low steps, the lower of which is almost flush with the ground. Metal plates have been set into opposite faces of the base, which have been used to record the names of those villagers who lost their lives during the two World Wars; Two names for World War I and one for World War II.
Sheepstor is blessed with three granite crosses. As well as this memorial cross there is another cross in the churchyard, beside the stile at the southern gate, and the village cross which stands just outside the lychgate.