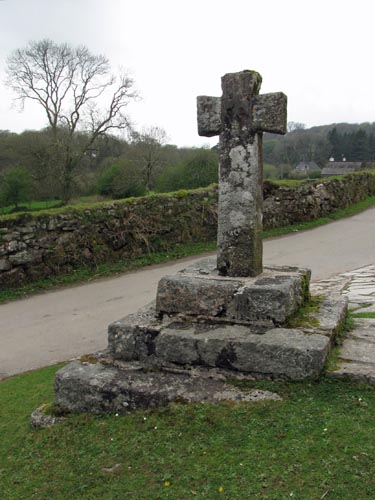 Location: Outside the lych-gate entrance to the Sheepstor Churchyard.

O/S Grid Ref: SX/55961/67659 Longitude/Latitude (Degrees+/-): -4.03197/50.49098

Map location: Click here to view map.

Purpose: Village Cross

Size: 5 feet 4 inches (1.60 metres) tall. 2 feet 3 inches (0.70 metres) across the arms.

Information: In 1902, William Crossing wrote that the base of the Sheepstor cross was lying, broken, at a nearby junction of two lanes. He also wrote that the shaft, minus the arms, was standing in a field half a mile away at Burrator, in use as a rubbing post for cattle. Previous to that it had been used as a gatepost. Happily, the cross was restored to its current position in 1910, to commemorate the Coronation of King George V. This was arranged by the Rev. Hugh Breton and a group of local Sheepstor men, who voluntarily gave up their evenings for three weeks to complete this task. The vicar of Sheepstor dedicated the cross on Coronation Day, 22nd June 1911, so that it could be used as a preaching cross and open-air services could be held before it.

It now stands on a plinth of four pedestals, with a new socket stone and has had two new arms expertly fitted. The cross is chamfered on all edges and there is a raised cross, in relief, on both faces. The arms also taper inwards.
There is some uncertainty about the origins of this cross. One theory is that it might originally have been known as Rumon's or St Rumon's Cross and it has been referred to as Roman's Cross on Ordnance Survey maps. Richard Hansford Worth suggested that it might have been the Smallacombe Cross, which stood on Ringmoor Down to mark the boundary of the Buckland Abbey lands. However, it is just as feasible that it has always been the Sheepstor Village Cross.

In the churchyard and surrounded by railings is the grave of the Rajah of Sarawak. Sir James Brooke was born at Bandel, in Bengal, and later became the white Rajah of Sarawak. When he retired, he was succeeded by his nephew, and he made his home at the nearby Burrator House. He died in 1868 and was buried in the Sheepstor Churchyard. The interesting point about his grave is that it is made from red granite brought down from Aberdeen, rather than using local granite, of which there is an abundance on the nearby slopes of Sheeps Tor. A clear case of 'Taking Coals to Newcastle'.
Nearby, at the top of the lane leading from Burrator Lodge to Welltown, at the junction with another hilly lane is a grassy mound. Although there is no cross there now, it is widely accepted that this was the site of Lowery Cross.
In the churchyard, you can also see the Sheepstor Churchyard Cross.