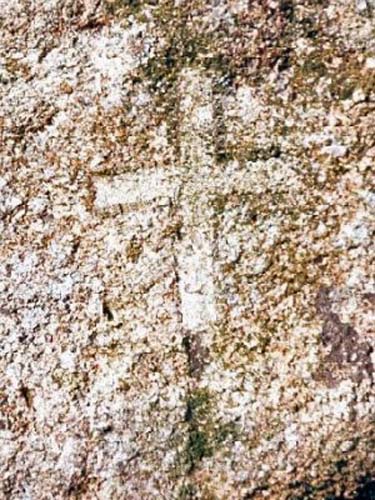 Location: On the southern face of the upper rock on the main pile of Shell Top, immediately to the left of a vertical split in the rock.

O/S Grid Ref: SX/59763/63804 Longitude/Latitude (Degrees+/-): -3.97696/50.45725

Map location: Click here to view map.

Purpose: Not known.

Size: The cross measures 12 inches (0.31 metres) tall and 5 inches (0.13 metres) across the arms. The incision is about ¾ inch (0.02 metres) wide and is very shallow.

Information: Unfortunately my research has failed to discover any information about this incised cross. My guess is that it is relatively recent, in that it was probably engraved at some time during the 20th century. However, I have not been able to discover exactly when it was engraved, who was responsible for it or why. If anyone has any suggestions they would like to share with us, please e-mail us from our home page.

The cross can just be seen in the centre of the split rock at the top of the Shell Top rocks, as shown in the photo to the left. On the top of this rock there is a small hole, about 2½ inches deep and 1½ inches in diameter, with an incised equilateral triangle around it. The sides of the triangle measure 10 inches (0.25 metres) in length. This hole was used to support a flagpole, from which the red danger flag was flown, during war-time army exercises on this part of the moor. Also incised into the top of the rock are the initials 'AR' and 'WR'.
There are some good views to be had from Shell Top, if you can ignore the unsightly china clay works below. Some of the tors that stand out are Great and Little Trowlesworthy Tors, Legis Tor, Gutter Tor and Sheep's Tor. You also have a good view of the Plym estuary and the high points over the border into Cornwall.