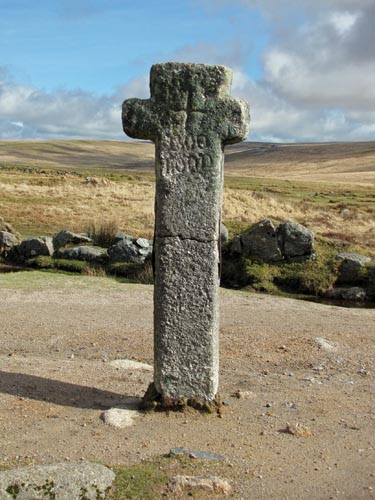 Location: Near Nun's Cross Farm, on the track from Princetown.

O/S Grid Ref: SX/60477/69945 Longitude/Latitude (Degrees+/-): -3.96920/50.51262

Map location: Click here to view map.

Purpose: This cross stands at the junction of two main tracks across the moor; The Abbots' way and the Monks' Path. Both tracks link the Abbey at Buckfast with those at Tavistock and Buckland. The Monks' Path takes an East/West direction from Fox Tor Farm, passing through Nuns' Cross, through to Crazywell Pool and beyond. Whereas the Abbots' Way takes a more South West/ North East direction from Plym Ford to Princetown.

It was also named as a boundary mark of the King's Forest in the perambulation of 1240.

Size: 6 feet 10 inches (2.08 metres) tall; 2 feet 7 inches (0.79 metres) across the arms. The repair to the shaft is 3 feet 7 inches (0.79 metres) from the top.

Information: The ancient name of Siward's Cross (Latin: Crucem Sywardii) was quoted in the 1240 perambulation of the Forest of Dartmoor documents. This name is

thought to have derived from Earl Siward, a Saxon, who owned the lands around Tavistock prior to the Norman Conquest. The word 'Siward' is engraved across the arms of the eastern face of the cross.
The inscription 'BOC LOND' appears on the Western face of the cross. This ancient spelling of 'Buckland' dates from when the grounds of the Countess Amicia, in which the cross stands, was bestowed upon the monks of Buckland Abbey.
No-one, it appears, can confidently give the reason for its alternative name of Nuns' Cross. There is no historical evidence linking either the cross or the area with any nuns. The most plausible explanation, as given by William Crossing, is that it is a derivation of the Cornu-Celtic word 'Nans'. This means a valley, dale or ravine and, as the cross stands near the head of the Swincombe Valley, this could have given rise to the name of Nun's Cross.
This was yet another cross found to be thrown down and damaged, with a broken shaft, in the 19th Century. This time it was found by Sir Ralph Lopes who had it repaired and re-erected on its current site.