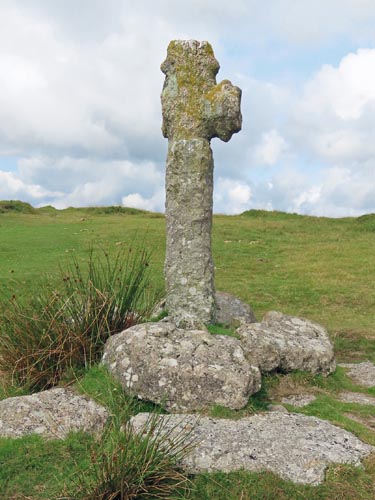 Location: On Piles Hill, at the junction of the tracks from the Owley moor gate to Harford and Wrangaton to Erme Pound.

O/S Grid Ref: SX/65915/59976 Longitude/Latitude (Degrees+/-): -3.88897/50.42429

Map location: Click here to view map.

Purpose: Waymarker for the above-mentioned tracks, of which the Owley moor gate to Harford track formed part of the Monks' route from Buckfast Abbey to Plympton Priory.

Size: 5 foot 6 inches (1.68 metres) tall. and 17 inches (0.43 metres) across the shaft and surviving arm.

Information: This badly-mutilated cross was fashioned from a coarse-grained granite block, but is now minus its original shaft and one arm. The cross was restored to its current position by the Dartmoor Preservation Society in the 1930's, at which time it was given a new shaft.

It is unique amongst Dartmoor crosses in that the head and each of the arms had 2 spurs projecting from them. These spurs measure about one and a half inches long and two and a half inches wide. It must have made an impressive sight to the wayfarer coming across it in the days when it was in its prime. In order to get a better idea of how it would have looked prior to the damage, our page on the Ermington Church Porch Cross shows a very well preserved example.