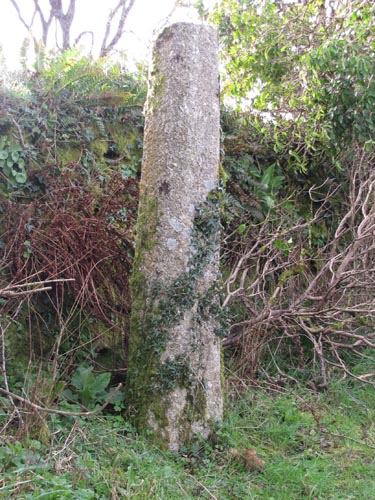 Location: On the South West side of the road, just around the corner and up the hill from Welltown farm.

O/S Grid Ref: SX/540/701 Longitude/Latitude (Degrees+/-): -4.06038/50.51240 (approx.)

Map location: Click here to view map.

Purpose: Waymarker for the route between the Abbeys of Buckland and Buckfast.

Size: 5 feet 1 inch (1.55 metres) tall. Shaft tapers from 13 inches (0.33 metres) at the bottom to 8 inches (0.20 metres) at the top.

Information: All that remains of this cross is the shaft that we see beside the road today. No trace of the head or arms can be found. There are two gate hangers still in place on the right-hand edge of the shaft and two holes can be seen in the roadside face, where gate hangers have obviously been fixed at some time in the past. It would therefore appear as though the head and arms were removed when the cross was put into use as a gatepost. The shaft has chamfered edges and tapers towards the top.

Not a lot is known about this cross. It was found some years ago in a nearby farm building and erected at its current site by the Dartmoor National Park Authority.