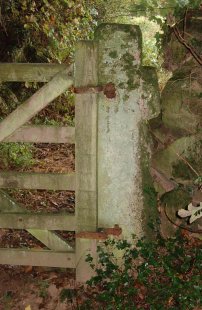 Location: At Moor Cross, on the Cornwood to Ivybridge road, take the lane that leads up to Hanger Farm. At the top of the hill, take the footpath on your right and you will shortly see the cross in a gateway on your right.

O/S Grid Ref: SX/613/587 Longitude/Latitude (Degrees+/-): -3.95343/50.41175 (approx.)

Map location: Click here to view map.

Purpose: Not known.

Size: 5 feet 1 inch (1.55 metres) tall. 1 foot 3 inches (0.38 metres) wide at the level of the arms and at the base, 1 foot 9 inches (0.53 metres) deep at the base.

Information: This cross is currently in use as a gatepost at Hanger Farm. Two metal brackets have been inserted into the shaft to support a wooden gate beside the footpath leading towards the farm. Hanger Farm is in the Domesday Survey and the existing house dates from about 1600.

No-one seems to know the original purpose of this cross. Harry Starkey states that the cross was never completed, as is supported by the fact that it has only one arm and as can be clearly seen in the attached photograph, the back is rough and unfinished. He goes on to suggest that it's purpose could have been as a waymarker from the outlying farms and villages to the church at Cornwood.
The other possibility to be considered is that it was erected to mark the boundary of the Blachford Estate. The manor house is situated about ½ mile to the north east of Cornwood village and its vast estate lands extend onto the moor itself. There are a number of boundary stones on the moor engraved with 'BB' (Blachford Bounds) and it is perfectly feasible for this cross to have performed a similar purpose on the southern boundary of the estate.

A similar instance of crosses being used as estate boundary markers is that of the Huntingdon and Petre's Crosses, which were used to mark the boundaries of the Brent Estate. The most famous squire of Blachford was Frederic Rogers, a retired civil servant from the Colonial Office who died in 1902. The cross at Cornwood was erected in his memory and the Blachford Barony has now become extinct.